How to Become a partner?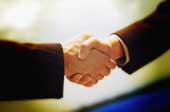 TechnoNICOL Corporation offers you to become its official trading Partner in your region.
Thanks to this, you can announce yourself as our partner representing interests of a European leading manufacturer of water-, heat- and sound insulation materials. We will be glad to work with companies full of initiative and motivation by providing an individual approach to each client.
 The policy of our company is aimed at setting up long-term ties and cooperation with out trading partners, with the main principles as follows:
transparency of cooperation
availability of a personal manager
credit programs
informational and technical support, help in products promotion
taining for personnel of a trading partner
products delivery by the Corporation transport
The detailed information on the terms of cooperation you may get by filling out and sending the application form to info@tn.ru.