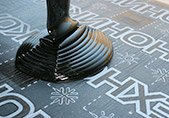 TECHNONICOL Corporation is a leading international producer of reliable and effective building materials and systems. The company offers innovative products and technologies that combine solutions of proper research centers and international experience.

The Corporation includes two large divisions, independently managed by each of the owners: the TECHNONICOL Industrial Company, headed by Sergey Kolesnikov, and the Trading Company "Technonicol Trading Systems" managed by Igor Rybakov.

The TECHNONICOL Industrial Company, headed by Sergey Kolesnikov, integrates 53 production sites in Russia and abroad (Belorussia, Lithuania, the Czech Republic, Italy, the United Kingdom, Germany), 22 representative offices in 18 countries, 19 training centers and 6 research centers equipped with high-tech equipment and qualified personnel. The centers regularly develop and implement new products and solutions for the construction industry. The company exports materials to 95 countries worldwide. Headquarters are located in Russia, Poland, Italy, China and India. In 2017, the industrial complex showed revenue of 79 billion rubles.

Trading Company "Technonicol Trading Systems" managed by Igor Rybakov specializes in selling the Corporation's products, but also other building materials and tools for industrial, civil and private housing construction in more than 100 trade offices in Russia and the CIS.

The mission of TECHNONICOL is to produce high quality, reliable and effective construction materials and solutions, which we strive to make available to every person in the world. Our team is guided by principles of workmanship, high professionalism, responsibility and safety.

We are passionate about constant perfection of our materials, challenge met by our Research and development centers. The company is constantly upgrading existing technologies and launching new materials. Our Research centers and laboratories possess modern equipment to study physical and mechanical properties of materials within a wide range of temperatures, define the structure and ingredients of raw compounds and test the durability of finished products. Scientific research and new technologies make it possible to launch several new products every year.

TECHNONICOL is among the first Russian companies to emphasize the need of educating builders in new technologies and innovative material application. Our training centers offer modern equipment, stands, models and spaces for hands-on training. Thanks to practical approach to learning, we give additional educational support to our employees, customers and partners.