Profiled Membranes
Materials Profiled Membranes: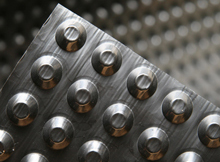 Profiled membranes PLANTER are one of the most modern solutions for buildings with high demands of durability and safety.
The main function of membranes PLANTER is to protect the waterproofing layer and to provide wall drainage. PLANTER possesses high strength characteristics, it is resistant to chemical action, to the influence of mould and bacteria, roots of plants and ultraviolet radiation.
Application Technologies:
Substitution of a concrete bed.
Protection of waterproofing of foundations.
Waterproofing and drainage of a foundation.
Waterproofing of deep foundation.
Protection of a waterproofing layer of the foundations in heaving soils.
Waterproofing and drainage of an accessible roof area.
Waterproofing and drainage of a "Green roof".
Waterproofing tunnels.
A slurry wall.
Readjustment of wet walls.
________________________________________
Where can you buy it?
Approved solutions for your building. Systems TechnoNICOL.
---