Thermal insulation board LOGICPIR - TECHNONICOL
Materials Thermal insulation board LOGICPIR:
LOGICPIR is a thermal insulating material of new generation made of rigid PIR (polyisocyanurate) with proven in the international market.
LOGICPIR is a board made of rigid PIR (polyisocyanurate) for use in flat roofing systems. Being very rigid and perfectly flat, LOGICPIR is an ideal substrate for roofing materials, especially for synthetic membranes. LOGICPIR has high compressive strength and a very low thermal conductivity value of 0.021 W/m*K.
More than 95% of PIR consists of closed cells. PIR board does not absorb water. It maintains stable parameters for a long period of time.
Unique features of LOGICPIR
RELIABILITY AND DURABILITY
Throughout its 50-year service life LOGICPIR retains its qualities.
RECORD LOW THERMAL CONDUCTIVITY
LOGICPIR has very low thermal conductivity of 0.021 W/m*K. Boards have L-shaped edges, so they fit tightly together and thus prevent cold bridges.
ALL SEASON
It functions effectively within a temperature range from -65 °C to +110 °C, so it is suitable for use in any climate.
DOES NOT ABSORB WATER
The board structure consists of closed rigid cells, which do not allow water to come into material. Composite facers, made of AL foil and plastic, provide an additional vapor barrier.
DYNAMIC LOAD RESISTANCE
LOGICPIR complies with class 2 for dynamic load (EN 826). Compression strength of 120 kPa provides high resistance against deformation due to live loads.
LOW DENSITY
The low density of LOGICPIR is combined with high thermal resistance. Use of the product reduces the overall weight of a roof. This is especially important for roofs renovation. Transportation costs are substantially reduced as well.
DOES NOT BURN
LOGICPIR is not flammable. In contact with an open flame polymer burns on surface only. This creates a charcoal skin, which is an effective defense against further polymer damaging.
TECHNICAL DATA
| | |
| --- | --- |
| Thickness, mm | 20-250 in steps of ten |
| Board sizes, mm | 1200x600, 2400x1200 |
| Thermal conductivity, W/m²K | 0,022 |
| Reaction to fire | Class E |
| Compressive strenght, kPa | 120 |
| Long term water absorbance, % | 1 |
| Surface type | Aluminium foil or glass fibre mat |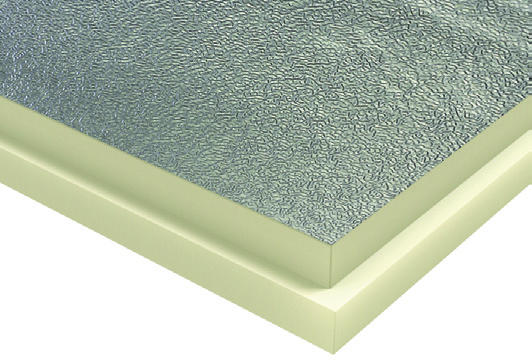 LOGICPIR with aluminium surface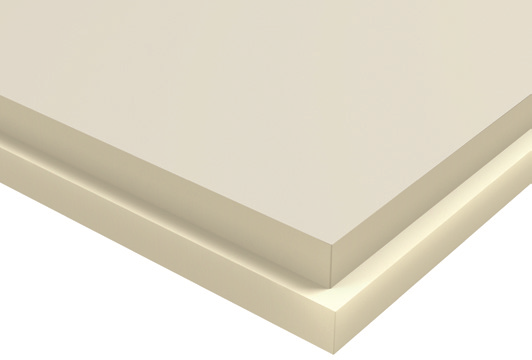 LOGICPIR with glass fibre mat surface