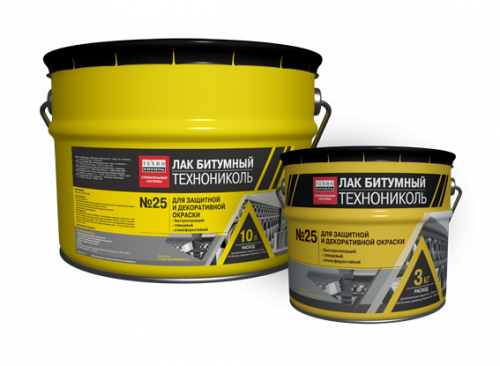 Application areas
TECHNONICOL asphalt lacquer #25 is designed for the protective painting of metal structures and products, as well as concrete and other firm surfaces, for preparation of antiseptic solutions to protect wood, and for manufacturing of aluminum paint.
Description of material
The asphalt lacquer is a solution of oil bitumen in organic solvents with synthetic modifying additives and siccatives. After drying, a firm black glossy covering is formed that has enhanced atmospheric resistance.
Method of application
Apply using a small paint brush, a roller or by dipping in one or several layers. Lacquer surface coverage:
– for metal surfaces — 0.2 l/m²;
– for concrete, wooden surfaces — 0.3 l/m².
Storage
Store in a dry place protected against sunlight at a temperature between –20°C and +30°C. Guaranteed storage period — 2 months.
Appropriate for preparing antiseptic structures that protect wood from rot
Forms a hard glossy black finish
Specifications:
Property
TECHNONICOL Lacquer #25
Mass fraction of non-volatile substances, %
45,0—55,0
Relative viscosity at 20°C according to the BЗ-4 type viscosimeter, s
20,0—65,0
Drying time up to 3 level, no more than
at 20°C
24 h
at 100–110°C
20 minutes
Elasticity of film when bent, mm, no more than
1,0
Hardness of film according to M-3 rocker equipment, arbitrary measurement unit, not less than
0,2
Static water resistance at 20°C, h, not less than
48
Static 3% NaCl solution resistance at 20°C, h, not less than
3,0