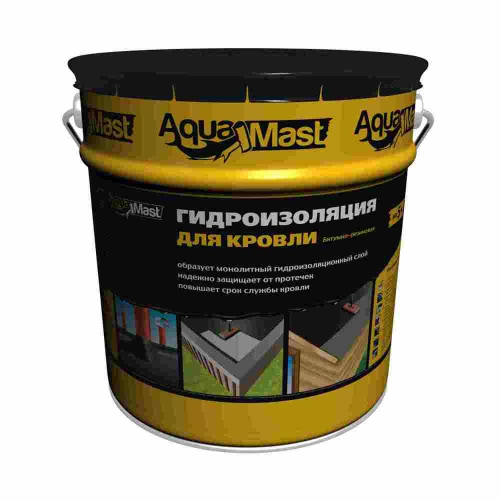 Technical Specifications 5775-064-72746455-2012
Distinctive features
Forms a monolithic waterproofing layer
Secure against leaks
Increases the operational life of the roof
Description of product
AquaMast Bitumen-rubber Roof Waterproofing (for roofing) is a ready to use multicomponent material that composed of oil bitumen modified with shredded rubber, processing aids, mineral fillers and organic solvent.
Area of application
AquaMast Bitumen-rubber Roof Waterproofing is designed for construction of the mastic roof and repairs all types of roofs. It forms an extra strong surface with a wide range of operational temperatures. Consumption for construction of mastic roof in 3 layers is 3,3 - 4,3 kg per m2.
Temperature range for performance of work
From-10C ° to +40 C °. At temperatures below 5 C °, the mastic must be kept at room temperature for at least a day first.
Storage
Store in a dry place protected from direct sunlight at a temperature from -20C ° to +30 C °. The storage life is 12 months.
Safety precautions
It is not recommended to be used near open flame. Proper ventilation must be ensured while working. Do not use it in residual premises. Avoid contact with skin and eyes. If the mastic gets in touch with the skin, the solvent can be used to remove the stain.
Packing
Metal EuroBucket 18 kg/ 10 kg/ 3,5 kg.
Specifications:
Property
AquaMast Roof mastic and Bitumen-rubber Cold Waterproofing
Cohesive strength, MPa (kgf/cm2), not less than
with concrete
0,1
with metal
0,1
Nominal strength, MPa(kgf/cm)
0,2
Elongation at break, %, no less than
100
Water absorption within 24 hours,% by weight, not less than
2
Dry residue, %, no less than
73-93
Heat resisting, °С, not below
100
Flexibility on a wooden beam with diameter 5.0+_ 0,2 mm at temperature -1C
No cracks
Water resistant within 72 hours at a pressure of 0.001 MPa
Hold
Application life, hours, no less than
2