Fire safety of TN-ROOF Smart system certified by independent experts
02.09.2016
The National alliance of organizations for fire safety provision (NAOFSP) issued the revised certificate for the system TN-ROOF Smart by TechnoNICOL. The voluntary certification results fully correspond to the manufacturer's data in terms of fire hazard class and fire resistance level of the roofing solution.
Today, the National alliance of organizations for fire safety provision unites over 200 experimental laboratories and certification bodies. The voluntary certification within the NAOFSP system guarantees that any product or service correspond to the manufacturer's identification marking.
According to independent experts' conclusion, the TN-ROOF Smart system by TechnoNICOL has fire hazard class К0 (15) and fire resistance level RE15. Thus, its implementation is approved for roofs with surface less than 10000 sq.m and with no fire preventing bafflers. Apart from that, the TN-ROOF Smart solution with polymer membrane LOGICROOF waterproofing and combined thermal insulation perfectly suits residential homes, large logistics complexes, business and entertainment centers, car showrooms, industrial buildings and other objects of commercial estate.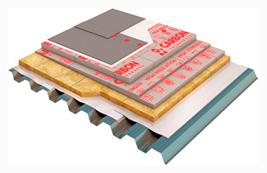 The TN-ROOF Smart system integrates the components that had been thoroughly selected to maximize the effectiveness, technological mounting, handy maintenance and economic advisability. The waterproofing covering is performed with the LOGICROOF polymer membrane with such properties as lightweight, high durability and technological installation (the membrane is welded using hot air). As a result, the risk of fire on the roof and burns of builders is decreased significantly.
The formula for each layer contains high quality fire-retarding agents and fireproofing compounds, which decelerate the oxidizing reaction at high temperatures and, due to thermal effects, lower the burning temperature and heat generation. Even the G2 burning group allows the unlimited use of membranes on roof surfaces with no additional fire preventing bafflers within the area of 10000 sq.m. The G1 burning group, which is the highest class for polymer membranes, allows using membranes on roofs with no limitations in terms of surface and availability of preventing bafflers.
The bottom layer from basalt fiber TECHNOROOF thermal insulation ensures high level of fire safety. The upper layer from TECHNONICOL CARBON PROOF extruded polystyrene (XPS) helps create a hard and solid base for the roof cladding and effectively distribute the loading on the whole system. For slopes and counter slopes on roofs, the tapered thermal insulation XPS TECHNONICOL CARBON PROF SLOPE is used.
The modern lightweight materials help to significantly decrease the pressure on load-bearing members and permit pedestrian loads, as well as create the durable construction with long repair-free lifecycle. Apart from that, the TN-ROOF Smart allows decreasing the roof cost without compromising quality by 30%.
The NAOFSP revised certificate acknowledges high fire retardant and technical characteristics of the TN-ROOF Smart system and helps customers choose the modern and safe solution for the roof assembly.