LEED (Leadership in Energy and Environmental Design) is a system of voluntary certification of objects, which evaluates their correspondence to the requirements of energy efficiency, implementation of materials and resources, quality of internal environment, effective water use, consumption of energy and lack of negative impact on the environment. The object can get LEED Platinum (over 80 points), LEED Gold (60 to 79 points), LEED Silver (50 to 59 points) and LEED Certified (40 to 49 points) qualification.
The Ecostandard Group conclusion says that the TN-ROOF Garant and TN-ROOF Expert PIR systems of TechnoNICOL are suitable for the construction of green buildings due to their energy efficiency, durability, vapor tightness, waterproofness and fire safety. Experts highlight low weight of the system, which reduces labor expenditures, excludes heavy lifting equipment and reduces emissions when transporting products. The report says that the systems and their components are water and frost resistant, vapor-tight, have solid foundation and high mechanical strength, and are not susceptible to decay, ageing, shrinkage and destruction over time. Due to these qualities, the implementation of TechnoNICOL systems can provide over half of the points required to get the LEED certificate. The PIR insulation, which forms part of these roofing solutions, has record-low thermal conductivity and thus raises the building's green rating.
Another Ecostandard Group research is devoted to the implementation of LOGICROOF roofing PVC membranes for waterproofing of single layer roofing systems. Experts state that the product has high solar reflectance index and thus improves the thermotechnical characteristics of the building over the summer period and reduce the urban heat island effect. Apart from that, the implementation of LOGICROOF roofing PVC membranes on the European part of the territory of Russia and partly on territories of Estonia, Latvia, Lithuania, Belorussia, Ukraine and Kazakhstan can add additional points for regional priorities in the LEED qualification.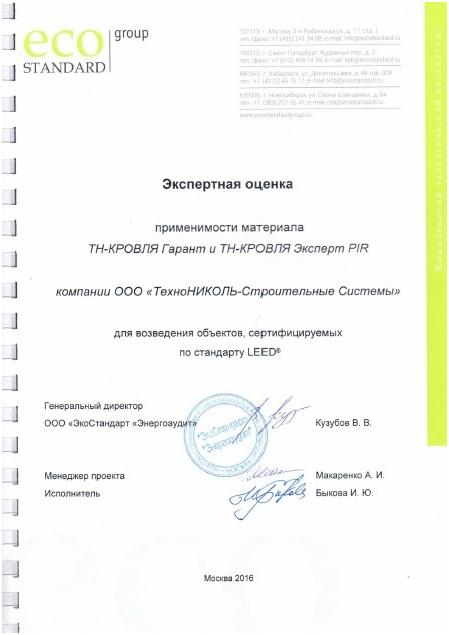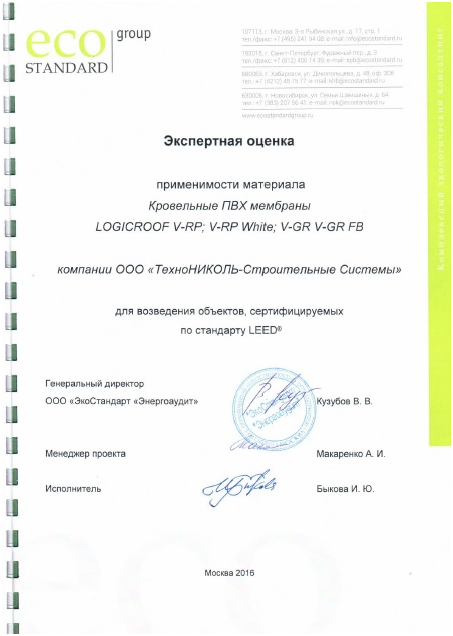 It is worth mentioning that Russia is more and more involved in the global eco-friendly construction. The green building impetus came from the Sochi-2014 Olympics, when the Government launched the certification of objects by international standards. Today, this is a commonly accepted practice, especially for the construction of objects of the Football World Championship 2018. The green standards are included in the FIFA list of evaluation criteria, along with safety and capacity. Over the past year, about one hundred of newly LEED certified buildings emerged in our country, among them offices of international companies, sports and urban complexes, commercial real estate. Presently, over 90% of certified objects meet the requirements of LEED or similar standards.
The implementation of new materials and solutions, which have been approved by experts in LEED certification, will contribute to quantitative growth of certified buildings. This will lead to higher comfort of buildings and bring the construction services market to a new level. Thus, by realizing global trends in energy efficiency, TechnoNICOL offers construction solutions compliant with the sustainable development principle.